You guys! I'm so excited to move into our new house in a little over a month! There's some awesome perks, like the neighborhood and the huge yard, but what I'm excited about right now, that spring is here, is having a back deck to grill on!
This leads me to talking about the new Char-Broil Kettleman Grill. Adam has always had his heart set on a charcoal grill, because he loves that charcoal taste. And this grill makes charcoal grilling easy for both of us. It gives you more control over the temperature, the flare-ups, and cleanup.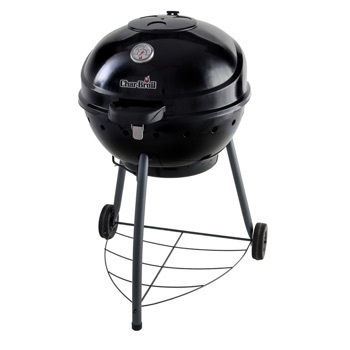 3 key things that I really like about temperature control:
1. There are v

ents around the body of the kettle allow air to fuel the fire from all sides, providing even heat to the cooking surface.
2. There is an integrated temperature gauge for monitoring charcoal.
3. Air fuels the fire from all sides, not the bottom center, providing even heating across the entire grilling plate.
This grill is $129 and available at Lowe's or at

www.charbroil.com. It is really a revolutionary grill!
This is a sponsored post written by me on behalf of Char-Broil. All opinions are 100% mine.